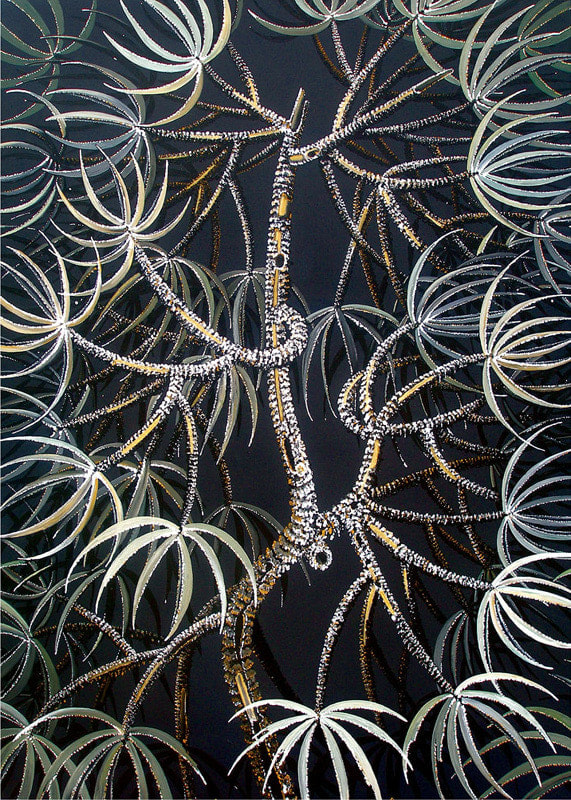 Show on Governers Island featuring works by G.R. Iranna, Rajan Krishnan, and Jamini Roy.
G.R. Iranna was born 1970 in Karnataka, India. During his youth, Iranna studied in a Gurukul (a system of education where the student resides with the teacher) and lived in an ashram for almost seven years. This helped to form a strong connection to his cultural roots, which enters his work alongside his exploration of the antitheses of inherent dualities of the world. Iranna endeavors to translate an internal landscape onto tactile surfaces and aspects of Buddhist art influences are evident. Although he began painting oil on canvases, Iranna later developed his range of medium, embarking on his now primary use of tarpaulin. Iranna's work is currently featured in the India Pavilion at the Venice Biennale. The artist lives and works in New Delhi, India.
Rajan Krishnan was born 1967 in Kerala. Rajan Krishnan`s art is very sensitive to his immediate natural environment. The fields and villages of the Kerala of his youth play the role of `principal protagonist` in most of his works, expressing his deepest aesthetic proclivities. His early works are slightly sentimental in their depiction of childhood memories of home, but this phase seems to have given way to a more assertive cynicism that unflinchingly records the sudden and sweeping changes wrought on the landscapes he has known and loved. Rajan Krishnan passed away in 2016.
Jamini Roy began his career by painting in the Post-Impressionist genre of landscapes and portraits, very much in keeping with his training in a British academic system. By 1925, Roy had begun experimenting along the lines of popular bazaar paintings sold outside the Kalighat temple in Kolkata. By the early 1930s, Roy began to use indigenous materials in his works, painting on woven mats, cloth and wood coated with lime. His inspiration for painting on woven mats was the textures he found in Byzantine art, which he had seen in color photographs. It occurred to him that painting on a woven mat might make for an interesting mosaic-like surface. The Santhals, tribal people who live in the rural districts of Bengal, were an important subject for Roy. A series of works done a decade before World War II is a prime example of how he captured the qualities that are a part of native folk painting and combined them with those of his own. He fused the minimal brush strokes of the Kalighat style with elements of tribal art from Bengal (like that of the terracotta work found in the Bishnupur temple, where terracotta was often composed into elaborate, decorative units over portals and across exterior walls of the temples). Roy's rejection of the then modern style of painting and his foray into the realm of Bengali folk paintings marked a new beginning in the history of Indian modern art. The main subjects were often enclosed within decorative borders with motifs in the background. Roy's works can be found in several private and public collections, institutions and museums all over the world, including the Lalit Kala Academy in Delhi and museums in Germany and the United States of America. Roy died 1972, Kolkata, India.