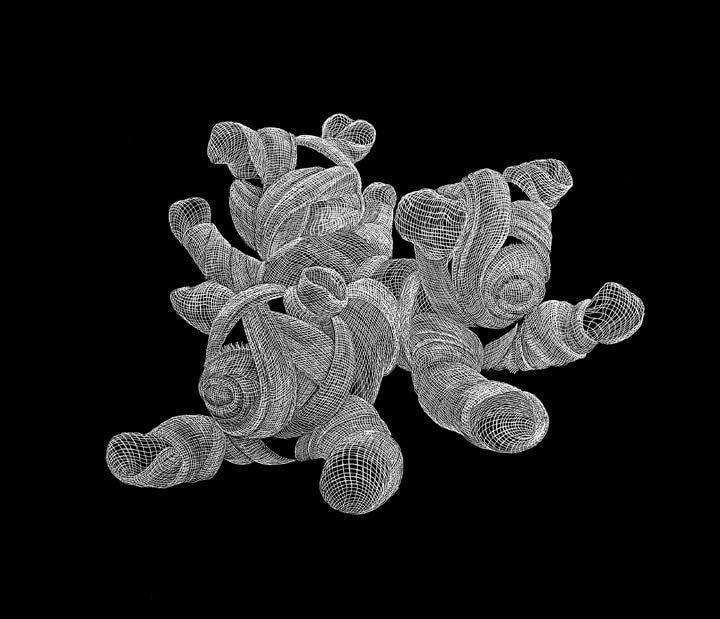 Born 1977, in Karachi, Pakistan
Adeel Uz Zafar completed his BFA degree at the prestigious National College of Arts, Lahore in 1998. Zafar took up the role of an illustrator and worked with several established publications before dedicating himself to painting almost two decades later. His time in the remote district of Gilgit, proved to be of vital importance to his practice where his style evolved in a rather unusual way.
The restrictions of mediums and techniques at this time gave birth to his engraving technique. Due to the dearth of paints and prepared surfaces in Gilgit, the artist started using photographic sheets and a cutter to create his imagery.
Zafar employs his childhood experiences and insight as a children's book illustrator into his practice. In his work, childlike imagery is given a certain seriousness or gravity by being wrapped in bandages. With the use of bandages, Zafar tries to raise questions about identity and the delusion of individuality. He wraps his subjects so that the individual features or elements that make them different from one another are concealed, cloaking their identity. These monstrous objects are then placed in front of a pitch-black backdrop to create sublime visuals. The artist's meticulous detail and laborious technique might resemble the painstaking technique of miniature painting yet he is set apart from miniature painters due to the sheer size of his art pieces.
Zafar has exhibited his work extensively within the country as well as internationally. The artist has been a part of several fairs such as Art Stage Singapore (2016), India Art Fair (2016), Art Basel, Hong Kong (2015) and Pulse Art Fair, New York (2012). He has also undertaken residencies in Lahore, Sydney and Cleveland.
His work was part Converging Lines, a two-person show in 2012 and a solo exhibition, Being/Becoming curated by Aasim Akhtar at Khaas Art Gallery, Islamabad in 2015.
The artist lives and works in Karachi, Pakistan.