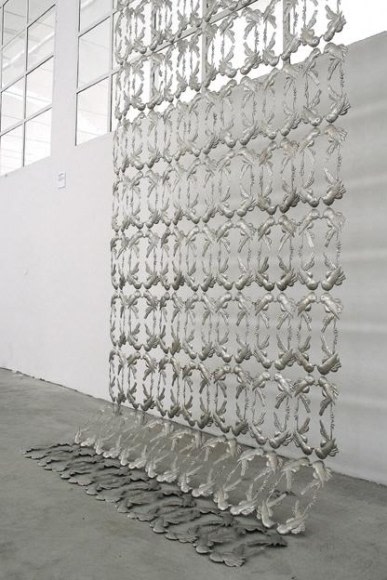 Born 1970, Karachi, Pakistan
The mainstay of Suleman's artistry explores a series of dichotomies that point to the fragile and fleeting ephemerality of life. By juxtaposing her intricate – initially pastoralized scenes as rendered in the filigree tradition of Islamic art – against the hard, formidable qualities of the stainless-steel medium, Suleman's sculpture is reminiscent of the precarious nature of the human condition inherent in the flux of societies.
The recurring motifs in Suleman's work—organic subjects such as birds and flowers—form detailed, repetitive patterns, which are replete with symbolic meaning. Abstracted notions of loss and disappearance quietly resonate through her sculptures. In lieu of tombs, memorials and funerals, the works confront our earthly fears, but remain suggestive of transcendental relief. They may be seen simultaneously as symbolic representations of the coexistence between love of nature and the chaos of man, in addition to the fragmented documentaries referencing recent violent and catastrophic occurrences within the artist's sociopolitical landscape.
Adeela Suleman studied Sculpture at the Indus Valley School of Art and completed a Master's degree in International Relations from the University of Karachi. She is currently the Coordinator of Vasl Artists' Collective in Karachi, in addition to being Associate Professor and Head of the Fine Art Department at Indus Valley School of Art and Architecture. Suleman has participated extensively with group and solo exhibitions worldwide, including Phantoms of Asia at the Asian Art Museum, San Francisco, the 2013 Asian Art Biennial at the National Taiwan Museum of Fine Art, Hanging Fire – Contemporary Art from Pakistan at The Asia Society, New York; Gallery Rohtas 2, Lahore; Canvas Gallery, Karachi; Aicon Gallery, New York; and, the International Exhibition of Contemporary Art, Bologna, Italy (2008). Reviews and features of work appear in Artforum and the New York Times, among other publications.
The artist lives and works in Karachi, Pakistan.