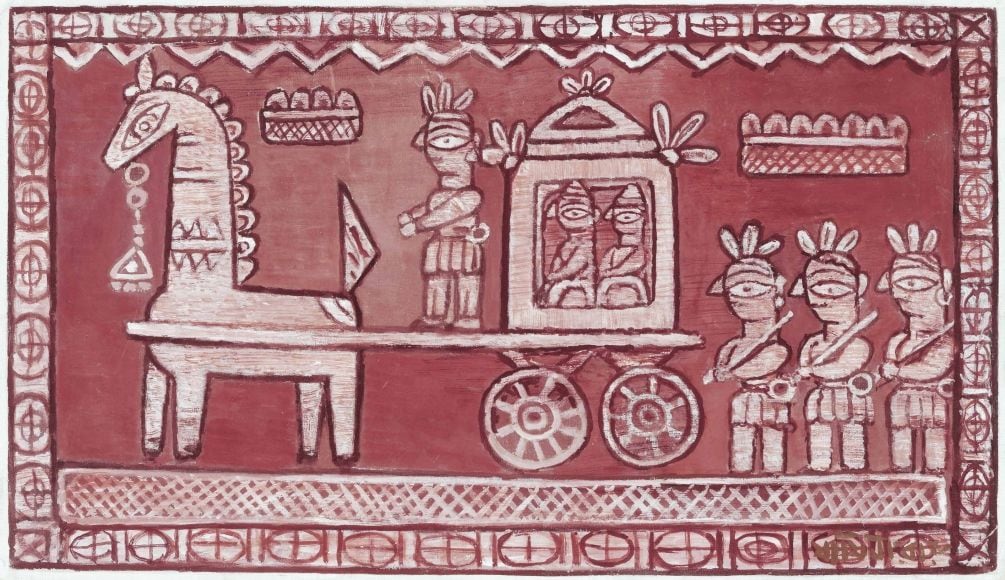 Born 1887, West Bengal
Born in a small village in the Bankura district, Jamini Roy joined the Government School of Art, Kolkata in 1903. He began his career by painting in the Post-Impressionist genre of landscapes and portraits, very much in keeping with his training in a British academic system. Yet, by 1925, Roy had begun experimenting along the lines of popular bazaar paintings sold outside the Kalighat temple in Kolkata. By the early 1930s, Roy began to use indigenous materials in his works, painting on woven mats, cloth and wood coated with lime. His inspiration for painting on woven mats was the textures he found in Byzantine art, which he had seen in color photographs. It occurred to him that painting on a woven mat might make for an interesting mosaic-like surface.
The Santhals, tribal people who live in the rural districts of Bengal, were an important subject for Roy. A series of works done a decade before World War II is a prime example of how he captured the qualities that are a part of native folk painting and combined them with those of his own. He fused the minimal brush strokes of the Kalighat style with elements of tribal art from Bengal (like that of the terracotta work found in the Bishnupur temple, where terracotta was often composed into elaborate, decorative units over portals and across exterior walls of the temples).
Roy's rejection of the then modern style of painting and his foray into the realm of Bengali folk paintings marked a new beginning in the history of Indian modern art. The mother and child, Radha, and animals were painted in simple two-dimensional forms, with flat color application and an emphasis on the lines. The main subjects were often enclosed within decorative borders with motifs in the background. The figure of the Christ was also one of Roy's common subjects.
Roy held several one-man exhibitions and numerous group shows. His works can be found in several private and public collections, institutions and museums all over the world, including the Lalit Kala Academy in Delhi and museums in Germany and the United States of America.
Died 1972, Kolkata, India.