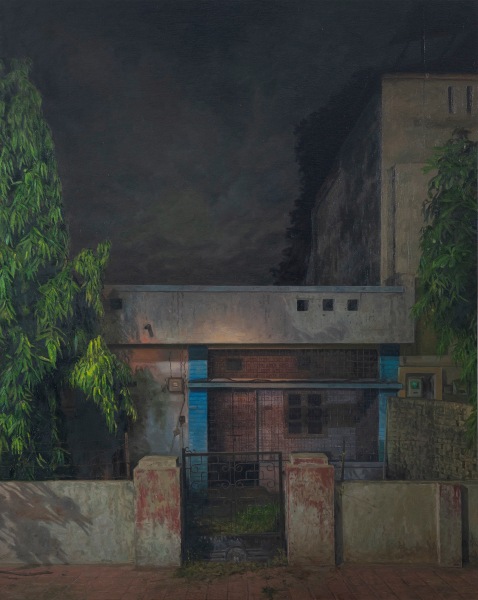 Aicon Contemporary is pleased to present Nightjar. Curated by Ambika Trasi, the exhibition features Abir Karmakar's most recent oil paintings of his city of residence, Baroda, in Gujrat, India.
Karmakar first took up the urban landscape of Baroda as a subject of his paintings in 2020, at the beginning of the COVID-19 pandemic, to capture the isolation and anxiety of the time in the style of history paintings. The artist has since continued to paint scenes of the city, depicting views from his home's rooftop that look out onto neighboring flats, and street level views of compounds and homes left vacant by their owners who live in the United States yet hoard their properties as a form of wealth storage.
Karmakar's process involves taking photographs of his subject matter on his mobile phone and digitally editing them in his studio before rendering the constructed scenes onto his canvases in precise detail. His perspective is that of an outsider's or "the other." Born in Siliguri in West Bengal, he has lived and worked in Baroda for 20 years, since he received his master's in painting from the Faculty of Fine Arts, M.S. University in Baroda. The works in Nightjar consider the artist's relationship to the city as a resident whose roots are removed from the local culture and who does not speak the regional language or have access to community. At a time when right-wing politics and Hindu nationalism have taken hold in India, there is a sense of mounting insularity throughout the nation, as well as a distrust and social alienation of migrants and minority residents. This is perhaps especially true in Gujarat, Prime Minister Modi's home state.
Karmakar's eye is keen and observant, enabled by his invisibility and illegible presence. In his Dead Hours series, he renders nocturnal scenes of large, vacant compounds that sit behind wrought iron gates and concrete walls, inaccessible and dark but for the ominous glow of a surveillance camera in Dead Hours 1. Meanwhile, his series From a Vantage Point underscores the impenetrability of the city, emphasizing the imposing verticality and rigidity of the urban environment. Karmakar's use of hyperreal and trompe l'oeil aesthetics give his works a filmic quality that push the boundaries of painting and blur reality and fiction. Through this style, he creates a simulacrum of the city, one that is stark and eerily absent of people: a Baroda that feels closer to his own (and to the other's) lived experience of it than what an unedited photograph might capture. The paintings consider the psychogeography of the city— the social and psychological effects of urban architecture on the individual and community.
Yet throughout Karmakar's paintings, nature transgresses and declares itself an uncontainable force that resists the dense concrete of Baroda. Forests peek out in the distance of his Vantage Point paintings, suggesting nature's insistence on surviving in seemingly harsh environments. In Enclosures, a tender vine grows along a drainpipe in the interstitial spaces between walls. Abundant greenery infiltrates the yards in Karmakar's Dead Hours series. Unruly shrubs and grasses grow outside of the homes and over the walls and gates; the overgrowth so dense that the garden netting buckles under its weight in Dead Hours 2.
The skies in Karmakar's paintings appear pastoral, boundless, and dramatic. They are most prominently featured in Limbo and Towards Oblivion, the only horizontal paintings in the exhibition. Limbo reflects on Karmakar's liminal place in Baroda as a simultaneous resident and outsider. The painting also considers the tension between nature and urban landscape: a black cloud hangs over a building, which could either be a sign of imminent monsoon showers or smog from a nearby factory, but beyond it is a divine blue. In Towards Oblivion, the artist removes any specific markers of location to disorient the viewer and create a transcendental experience. The light is rendered so that the painting may illustrate either dusk or dawn. The sky is a porous, sublime space that provides respite from the solid, angular structures of the built environment and from earthly notions of property and borders. In painting the piece, Karmakar blends into his environment like a nightjar or a transparent eyeball, underlining a sense of belonging that transcends any place or time.
Ambika Trasi, 2023
____________________________________________________________________________________________________
Exhibition Catalog: An accompanying exhibition catalog, Abir Karmakar: Nightjar, published by Aicon Contemporary, is available for purchase through the gallery. The publication features an essay by curator Ambika Trasi and includes illustrations of Karmakar's paintings from the exhibition.
Programs
An artist talk is scheduled on the evening of the opening on November 2nd at 7:30pm.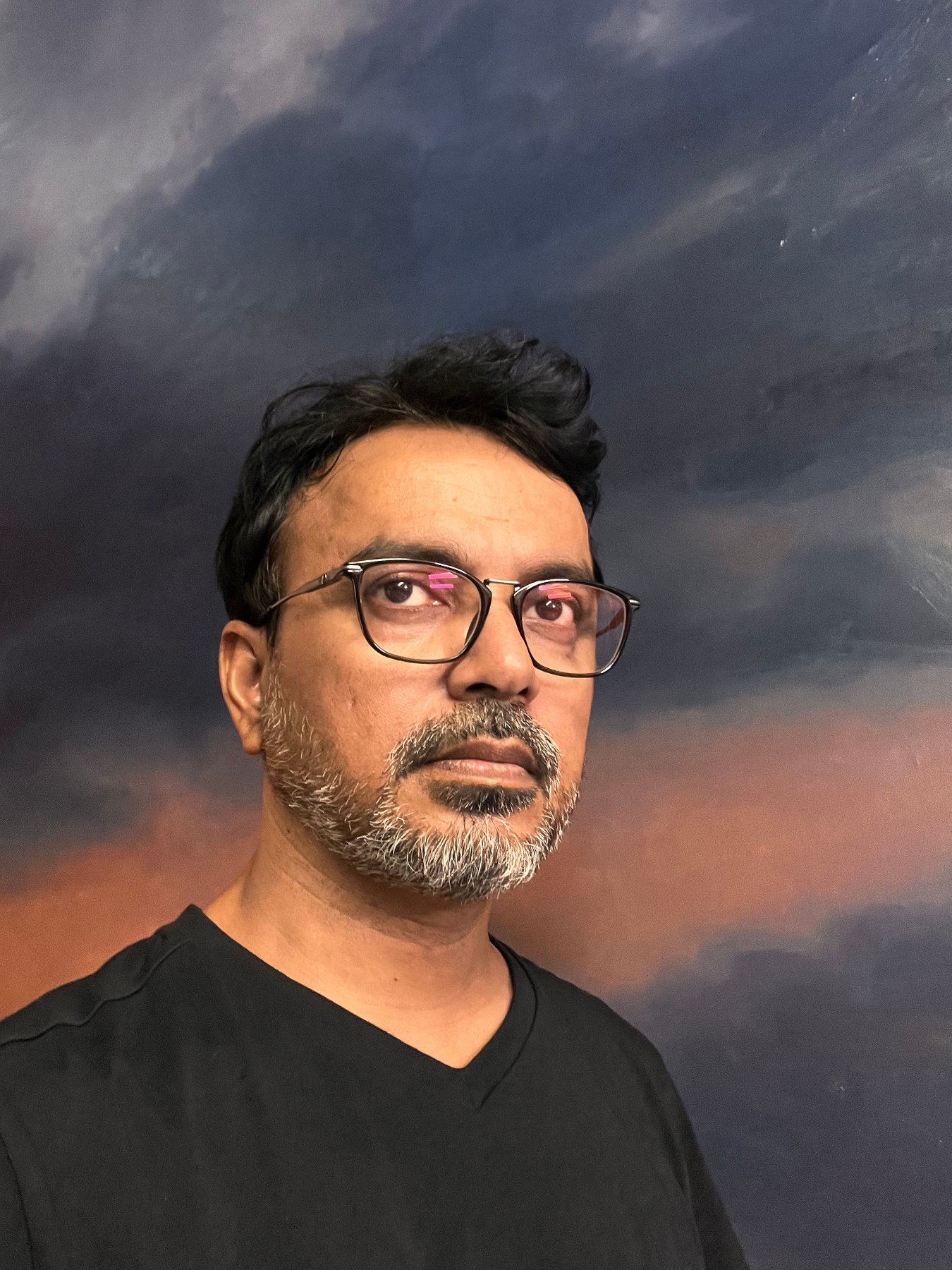 Abir Karmakar (b. 1977; Siliguri, India) received his Bachelor of Visual Arts in Painting from Rabindra Bharati University, Kolkata and Masters in Painting from the Faculty of Fine Arts, M.S. University, Baroda. He participated in the 3rd edition of the Kochi Muziris Biennale, Kerala (2016) while his works have been part of prominent group exhibitions such as 20/20 Artists for Khoj, Khoj International Artists' Association, New Delhi (2018). His solo exhibitions include Displacement, curated by Birgid Uccia at Galerie Mirchandani + Steinruecke, Mumbai (2017), Here everything is fine at Galleryske, New Delhi (2019-20), Everyday (2022) and Passage (2023) also at Galerie Mirchandani + Steinruecke, Mumbai. Nightjar is the artist's fourth solo exhibition at Aicon Contemporary.