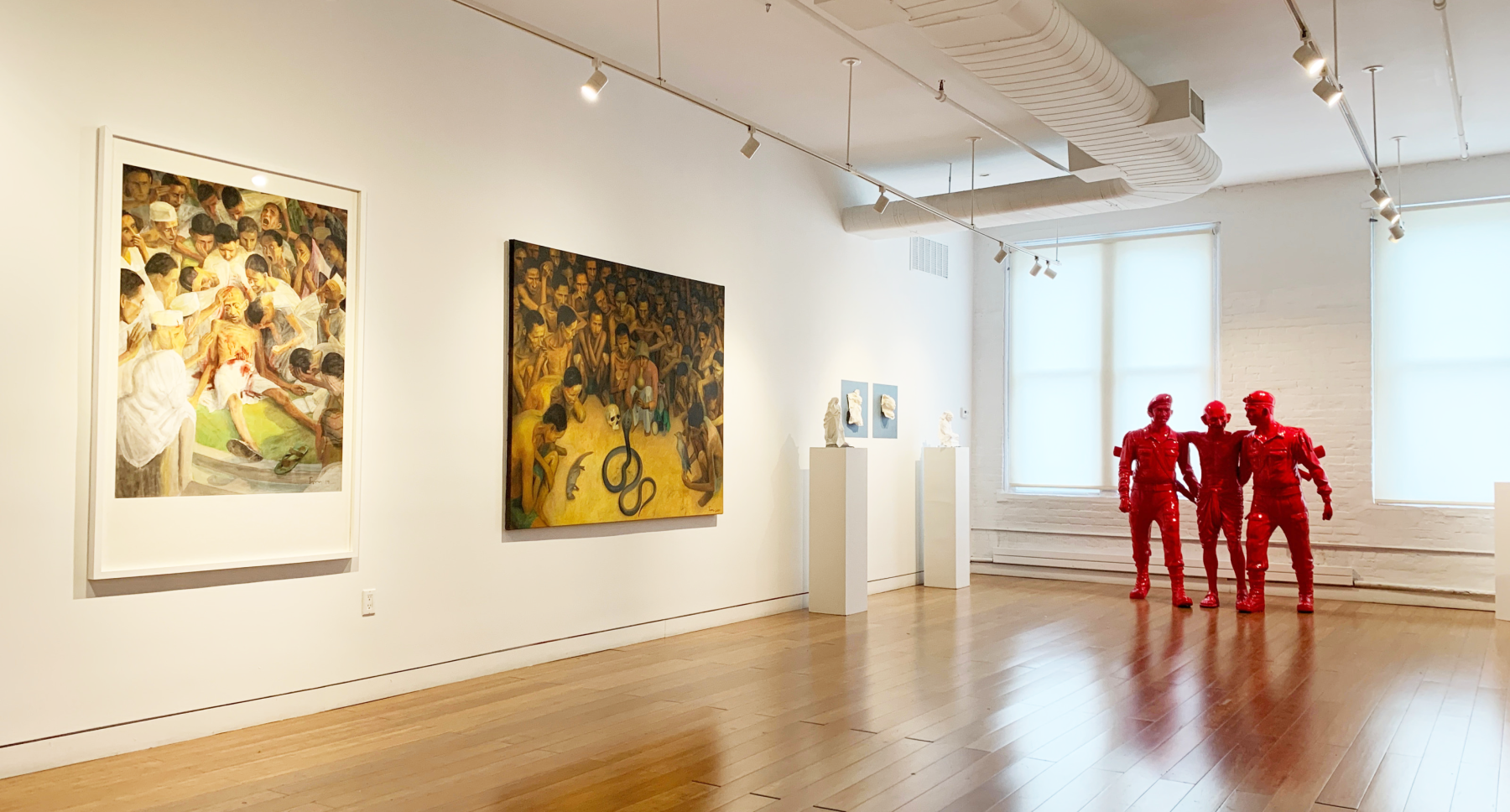 Gandhi's Keepers
A group exhibition at Aicon Contemporary for Mahatma Gandhi's 153rd birth anniversary.
"Bravery of the soul still remains open to us... I am engaged in evoking that bravery. Non-co-operation means nothing less than training in self-sacrifice."
M. K. Gandhi, "Letter to all Englishmen in India," 1920
"Let there be debate about Gandhi's role in perpetuating racism and in preserving discriminatory hierarchies, including the caste system. Let there be a thorough reevaluation of this flawed man and his flawed legacies. Simultaneously, let there be a unified fight, much in the spirit of Gandhi, to reclaim the man from the hands of the rulers that subscribe to an ideology that murdered him."
Tamoghna Halder, "Coming to terms with Gandhi's complicated legacy" Al Jazeera, April 7, 2021
"…Mohandas Karamchand Gandhi is a hallowed but hollow figure in his country… He is seemingly visible everywhere but nowhere really to be seen, his complex ideas reduced to empty platitudes, his radical disobedience tamed and tempered.
Yet one realm of Indian society…continues to invest in him, laboring across various media to this day to produce remarkable new interpretations of the man, and his movement. …the visual artist has emerged as Gandhi's conscience keeper, reminding us of the meaning of the Mahatma, in his own time and today."
Sumathi Ramaswamy, Gandhi in the Gallery: The Art of Disobedience, New Delhi: Roli Books, 2020
Gandhi's commitment to pluralism lives on through the work of contemporary South Asian artists. On Mahatma Gandhi's 153rd birth anniversary, when pluralism is under siege in India and across the world, Aicon Contemporary is proud to present a group show featuring Ashish Avikunthak, M. F. Husain, Ravikumar Kashi, Debanjan Roy, Abdullah M. I. Syed, L. N. Tallur, Tom Vattakuzhy, Vivek Vilasini, and Asim Waqif.
Ashish Avikunthak, b.1972, lives and works between Calcutta, Bombay and Providence. Avikunthak is an experimental filmmaker who has been shown worldwide in film festivals, galleries and museums. Notable screenings were at the Tate Modern, London, Centre George Pompidou, Paris, Pacific Film Archive, Berkeley, along with London, Locarno, Rotterdam, and Berlin film festivals. A lifelong Gandhian, Avikunthak's work in this show is a departure from filmmaking, it contrasts natural cotton thread he has handspun himself, with manmade electric tape and plastic rubber bands.
M. F. Husain,1915-2011. For Husain, a giant of Indian Modernism, and arguably still the biggest name in Indian art, Mahatma Gandhi was a constant muse. Never more so than in the Husain painting in this show, Untitled (After Gandhi) | The Attenborough Panels. In this magisterial work, twin threads flowing through Husain's art, Gandhi and cinema, come together. Husain draws upon his history of a cinema billboard painter to re-imagine 6 scenes from Attenborough's hugely successful biopic (1982) as six large canvases.
Ravikumar Kashi, b. 1968, lives and works in Bangalore. Paper figures prominently in art made by Kashi, who holds master's degrees in printmaking and English literature. Kashi learned papermaking in Korea. In this series, Shroud of Bapu, he drapes freshly made cotton rag paper over Gandhi figurines and lets them dry hugging the contours of a now absent Gandhi figure.
Debanjan Roy, b. 1975, lives and works in Calcutta. Roy has produced a series of works which take Gandhi ostensibly as their subject, but this is a Gandhi who is seen holding or interacting with incommensurably contemporary objects; a cell-phone for example. In this exhibition, Roy's Gandhi has an incommensurable security detail, leaning on two armed soldiers in the place of his nieces –Gandhi shunned security in real life. This incommensurability is at the heart of Roy's project – how do we square India's history with its present and its future?
Abdullah M. I. Syed, b. 1974, lives and works in Sydney. Syed uses currency as a metaphor. He interweaves different currency bills, tongue-in-cheek, to highlight the contradictions, and ironies of nation states, and of identity. In this show, Syed seemingly juxtaposes Gandhi against himself, the warp of Gandhi against his weft. Syed's choice of retired currency notes draws attention to a demonetization process (2016) which was immensely disruptive, yet quite ineffective in its stated goal of removing "black money" from the economy.
L. N. Tallur, b. 1971, lives and works between South Korea and India. Tallur is a sculptor and winner of the 2012 Skoda Art Prize. Tallur's work in this exhibition, Eraser Pro 1-2, is a life size bronze sculpture of Gandhi, where most of the body is missing and the form is held together by shreds flesh and clothing. Like data erasure, which is not erasure really, but file space waiting to be overwritten, Tallur's Gandhi depends on the system's memory to continue to live.
Tom Vattakuzhy, b.1967, lives and works in Kerala. Vattakuzhi is a virtuoso painter of classical aesthetics, and contemporary politics. His painting, The Death of Gandhi, re-imagines the moment of Gandhi's assassination, at the hands of a man lionizedby supporters and members of the current regime in India. This gouache-on-paper work became an internet sensation when Vattakuzhi first posted it online, assuming an iconic status, reposted millions of times on social media.
Vivek Vilasini, b. 1964, lives and works in Bangalore. Vernacular Chants, Vilasini's epic work in the show, is a record of Gandhi busts made by anonymous, traditional craftsmen, in cement and then painted with enamel paint, across villages in India. In most locations this statue of Gandhi, of questionable accuracy, anatomically and otherwise, finds itself facing off against similar statues of B. R. Ambedkar, the author of the Indian constitution and champion of Dalit rights.
Asim Waqif, b. 1978, lives and works in New Delhi. Waqif, who trained as an architect and usually makes large scale installations contributes a video, FACT=FICTION, to this exhibition. In this 11'33" film made in 2016, Waqif, born to Muslim heritage but who is an atheist, uses interviews with family members, friends, and professional colleagues, to do a character assassination of himself. All the events in the film are based on real incidents but they are edited such that he appears to be part of undisclosed nefarious activities. The State and the media have used similar tactics to discredit and victimize opponents and dissenters.
Mohandas Karamchand Gandhi's spirit is hardy and stubborn, in a non-violent way. It refuses to be co-opted, try as hard as the co-opters might. And they try hard. The spirit of Gandhi opposes them, intelligently, interestingly, and yes, sometimes with humor. This spirit continues to inspire artists, born a hundred years after, to keep alive Gandhi's belief in pluralism.