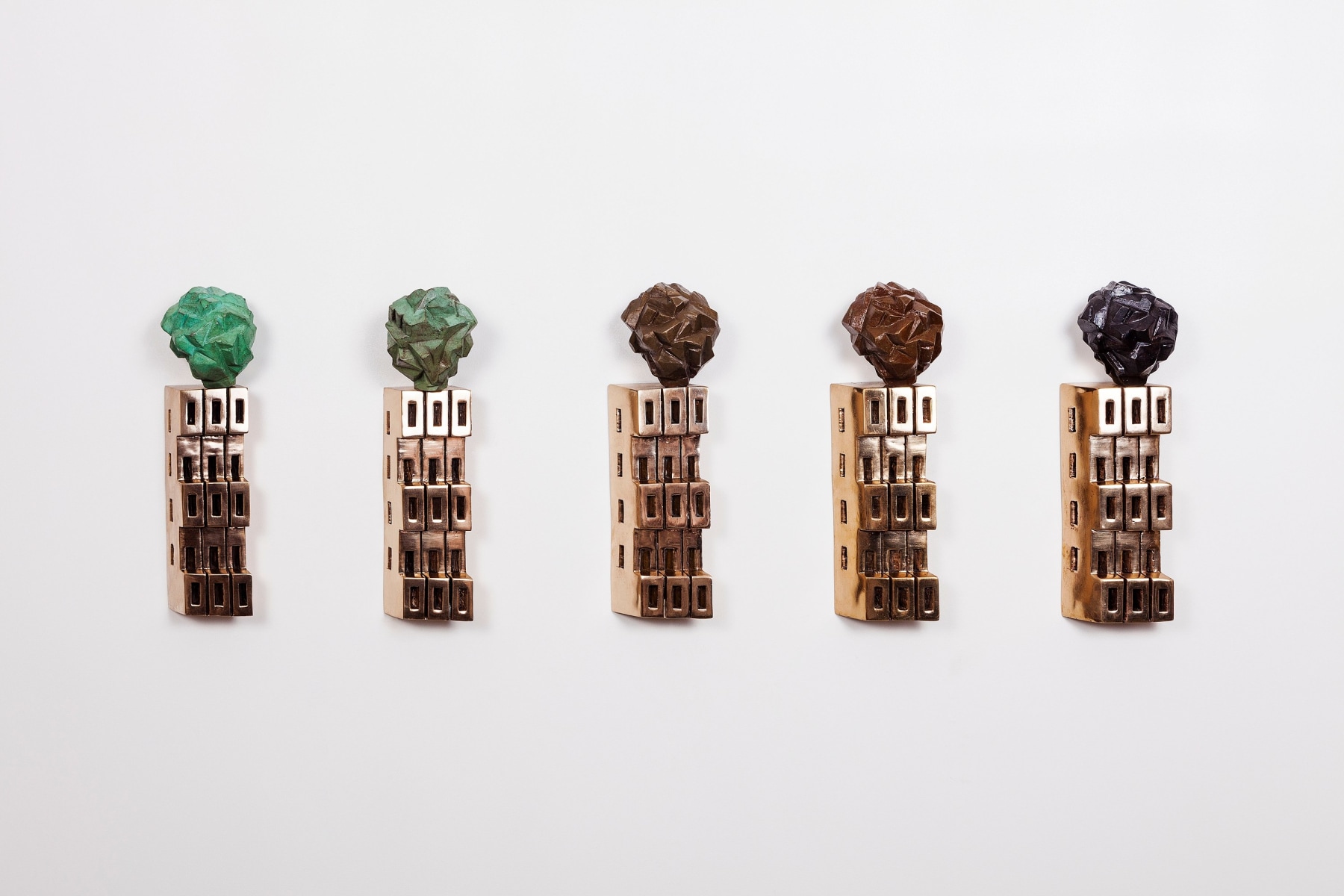 Press Preview & V.I.P. Reception: Thursday, August 10th 6:00pm – 8:00pm

Aicon Gallery New York is proud to present All About This Side, the first major U.S. solo exhibition by New Delhi-based artist Gigi Scaria. Scaria's work draws the viewer's attention towards the painful truths of migrancy and displacement through his intense investigation of urban topographies, modern city structures, and the intended and unintended consequences of such for the people who live amongst them. Echoes of alienation and displacement reverberate within the labyrinthine buildings of his canvases and the uncanny structures of his sculptures and installations. Explaining Scaria's particular concerns within the canon of contemporary South Asian art, critic and curator Gayatri Sinha has stated "Gigi's particular position is to investigate how city structures, social constructs, and the view of location is translated in social prejudice and class attitude."

It could be surmised that many urban stories the world over are on course to come to a standstill when we consider the environmental destruction and exploitation of natural resources that have accompanied their growth over the last 150 years. This painful truth of modern human existence has finally come to clearly cast its brutal assertions on everything we perceived, imagined, and hoped for about our cities and our lives within them. The future we imagined has already become a burden to carry forward. The past is no more than a tool to navigate the future, and has become a devastating testimony to the future itself. The idea of economic power in the midst of the desolation of our own imagined world has become one of the greatest parodies of the 21st century.

All About This Side invokes this other side of human existence through an intense examination of the nominally protective barriers and constructs we have erected around it. A fence against unaccepted current realities and an unacceptable future is already well under construction. The architects of our generation are more inclined to put their creative energies into making this fictional barrier as permanent as possible as opposed to building a sustainable habitat for modernity's survivors. However, this side of the 'mind' is nearly at the verge of exhaustion, and is unable to continue propping up its clusters of 'cultural enactment'. There must be another, very different, mind watching every short-sighted, selfish action we commit to prolong our own existence from the other side of the wall; the wall we believe will protect us from our own nature. Or, in the artist's words, "the future of this present has become the past of any 'past' we could ever imagine."

Gigi Scaria was born in Kothanalloor, a village in southern Kerala, India, in 1973. In 1995, after completing a Bachelor of Fine Arts degree at the College of Fine Arts, Thiruvananthapuram. Scaria moved to New Delhi where he undertook a Master of Arts at Jamia Millia Islamia. In the mid-1990s, while establishing his career as a professional artist, Scaria also illustrated children's books and taught art at an experimental school in New Delhi. Since 2001, Scaria has held over fourteen international solo exhibitions. In 2010, Scaria participated in West Heavens, the first major artistic engagement between India (historically referred to as the West Heavens in Chinese Buddhist texts) and China. The exhibition Place Time Play: India-China Contemporary Art, was displayed at various venues by the Shanghai International Culture Association, Institute of Visual Culture, China. The following year Scaria was one of five artists (with Zarina Hashmi, Sonal Jain, Mriganka Madhukaillya and Praneet Soi) to represent India at the 54th Venice Biennale in the exhibition Everyone Agrees: It's About to Explode, curated by Ranjit Hoskote.

In 2011, Scaria's work was presented at the 3rd Singapore Biennale as well as in Crossroads: India Escalate for the Prague Biennale. Scaria's first project for an American museum, Gigi Scaria: City Unclaimed was held in 2013 at the Smart Museum of Art, the University of Chicago. A large photo-based mural of an imaginary cityscape, and a 3.6 meter high water fountain were sited in the museum's reception for twelve months. In 2014, Scaria participated in Kochi Muziris Beinnale titled Whorled Explorations curated by Jitish Kallat. In 2016, he has exhibited a large-scale steel sculpture at Laumeier Sculpture Park, St. Louis, USA. At the same time he also had a solo exhibition Time at their art center.