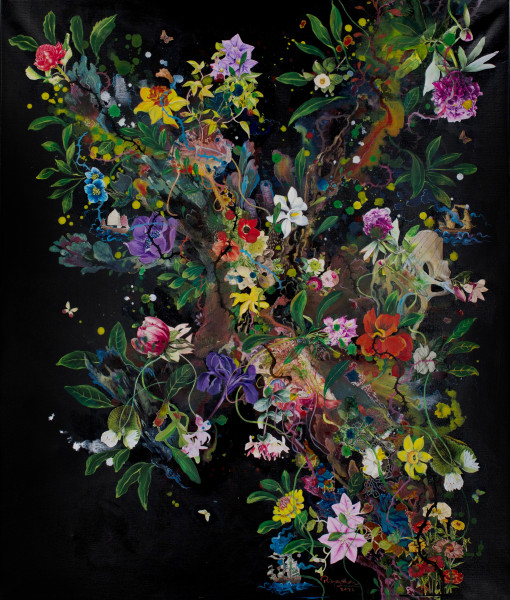 The Greeks referred to Sri Lanka as Taprobane, dating back to A.D. 140. Taprobane can be perceived as a continuation of Udagedara's previous exhibit Serendib, which explores deliberations on colonialism and its aftermath. Having engaged with the seascape back then, now the artist leaves the shores behind, to escort the viewer deeper into the island terrain, possibly to the central mountain ranges.
While from a distance these paintings give an aesthetically appealing array of blossoms, the images invite one to take a closer look. This detailed view, up-close, although necessarily fragmented, reveals the seafaring ships partly hidden among the vegetation and the men on horse-back – a direct allusion to the earlier series of paintings.
As you enter the wild terrain in the Taprobane paintings – you enter as a traveller, having crossed the beach – the only way to enter an island. As Greg Dening points out, we note the diversity, plurality, co-existence in the natural world. The environmental thrust of these visual depictions is significant within the context of our 'resplendent' past as well as the turbulent present.