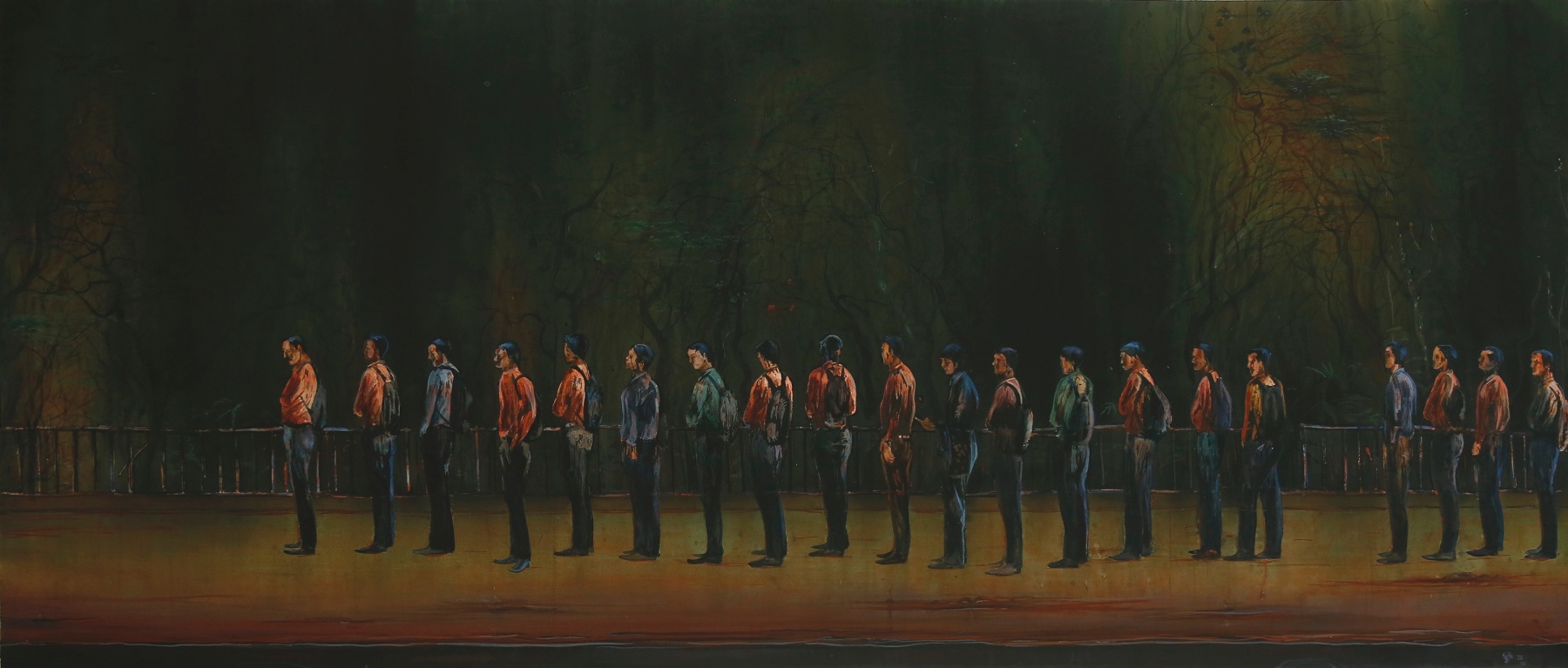 Seeds of Silence, a solo exhibition by Mumbai- based artist Sujith S. N, revolves around a new series of monumental works depicting the artist's iconic, otherworldly landscapes populated by haunting structures and fragile human figures under mysteriously luminescent night skies.
Prominent Mumbai-based critic and curator Girish Shahane, in his essay about the exhibition, states:
"Sujith S. N. is an anomaly, having dedicated himself to painting in a period when his peers, virtually without exception, have been drawn to the promise of cross-media experimentation. Not only has he stayed committed to brush and pigment, but has focused almost exclusively on crafting watercolors on paper.
A residency in Lucerne provided an entirely different perspective on the medium. In those frigid surroundings, the import of the phrase 'watching paint dry' applied to watercolor. More critically, the European residency reinforced his faith in his chosen medium at a time of profound self-questioning.
Pinned to a softboard in his studio is a postcard reproducing a European masterpiece, Brueghel's Tower of Babel. His first show in 2008 drew its title, The City and the Tower, from a passage in Genesis describing the mythical edifice that threatened to reach heaven. Since those early endeavors, he has been engrossed by the relationship between figure, landscape and architecture, a preoccupation he takes forward in the works that make up Seeds of Silence. The landscapes in these paintings are majestic, the buildings enigmatic, and the humans incongruous.
The paintings suggest stories, invite us to decode their mise-en-scène, but ultimately thwart any satisfactory narrative. We cannot know whether the man in Isle will move into the molten light emerging from the cottage squeezed between high rocks. In an untitled painting dominated by an other-worldly red sky, we suspect the bent figures are engaged in agricultural activity, but whether it is sowing or gleaning is as unclear as the nature of their crop. The cottage in Isle may seem welcoming but the rubble around it contains human skulls. Imagination begins where knowledge ends, Sujith believes, and curbs the extent of his own comprehension of what he paints in order to give imagination freer rein.
His primary connection to symbolism lies in the openly emotive effect of his work. Symbolism strives to evoke a particular mood or mental state in viewers, and he does something similar, though with a predilection for ambiguity that puts a greater range of emotions in play. The paintings in Seeds of Silence, like the title of the exhibition itself, are frequently melancholic, occasionally drifting to doom-laden. The apocalyptic tendency predominates in an untitled painting in which five figures stand on rocks in front of a formation that carries an erotic charge, a landscape that might depict a cliff face but is also suggestive of the fires of hell. Other works in the show are far gentler, conveying the beauty and despondency of twilight.
Sujith S. N. remains a purist at heart, refusing, for example, to use a little charcoal to blacken a section of a painting, though nobody would notice the difference. The medium cannot be the message if one is to enter the space of the sublime."