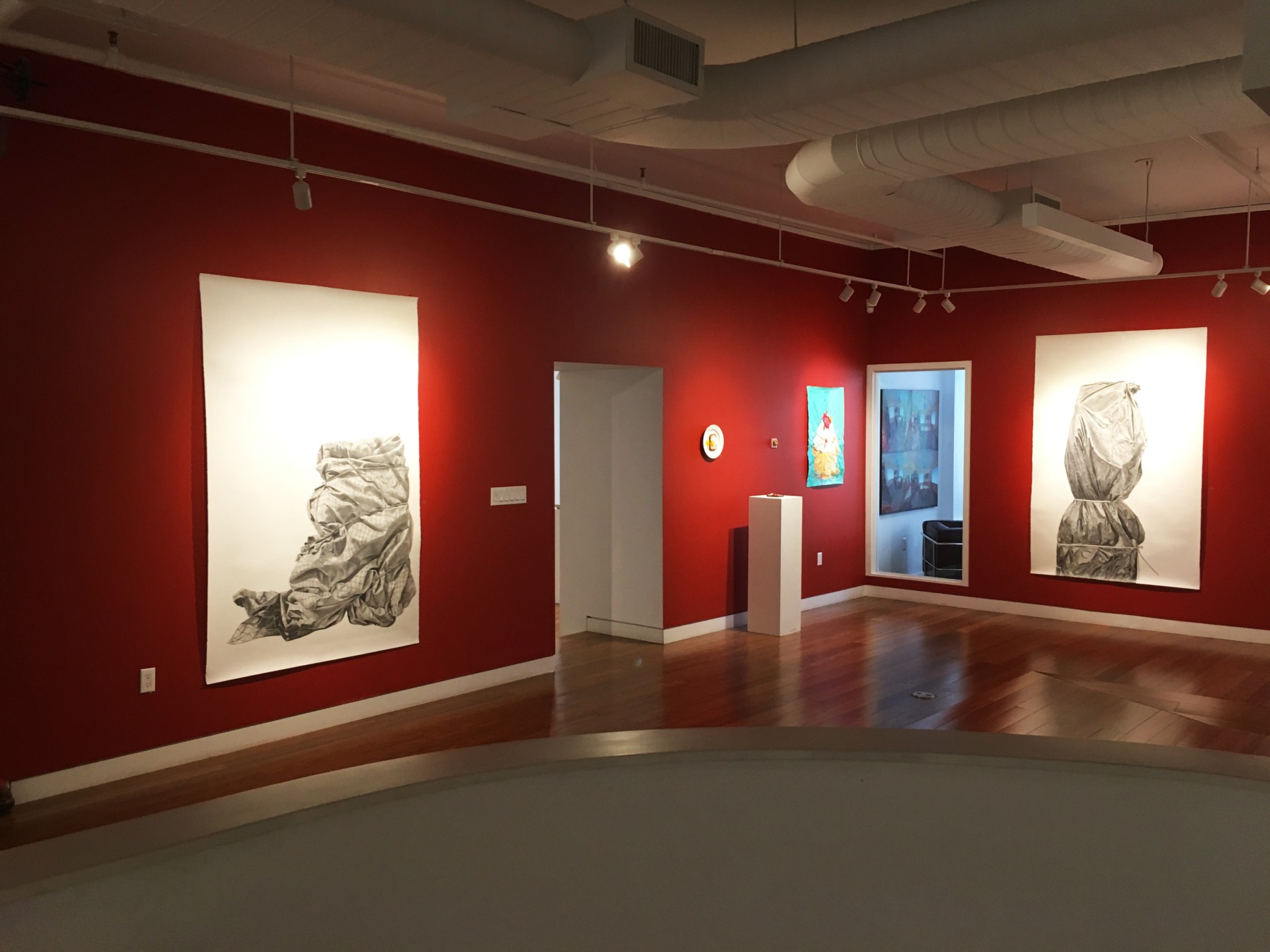 Aicon Gallery is pleased to present Sweeping Back the Sea | New Contemporary Art from Pakistan, a group exhibition featuring the work of Zainab Abdulhussain, Maryam Arslan, Mujtaba Asif, Affan Baghpati, Emaan Mahmud, Hira Khan, Muhammad Muzammil Khan, Suleman Aqeel Khilji, Seher Naveed, Seema Nusrat, Razin Rubin, Veera Rustomji, Omer Wasim and Saira Sheikh, and Mohsin Shafi. Curated by Adeela Suleman, the exhibition looks at how a new generation of Pakistani artists continues to address the ongoing sociopolitical conflicts facing the nation, while having moved almost completely beyond the neo-miniaturist visual modes of the past two decades. The exhibition's title is inspired by the sublime video works of Omer Wasim and Saira Sheikh, the latter having tragically passed away in 2017 after battling cancer. It also stands in as a reference for many of the ongoing problems facing Pakistan, such as its perpetual struggle against extremism, which manifests itself in wave after wave of violence, and its ongoing societal tug of war between the proponents of secular democracy and those of religious conservatism. These continuing dualities and contradictions have, of course, made their way into the arts at all levels ever since the forming of the nation in 1947. However, it is important to continue exploring how each new generation of artists seem to grapple with these long-standing issues, as technology and globalism march forward, new rifts open as old ones are drawn together, and the horrors of partition and war retreat from living memory into stories from the past, only to be replaced by new modes of violence, conflict, and political instability.
Zainab Abdulhussain captures visuals of various covered objects in her surroundings, among public and private spaces such as streets, markets and houses in Karachi. Her research into different Muslim clothing elements such as the hijab, veil and Rida, leads her to identify these coverings as a form of protection. This notion is reflected in her study of objects like vehicles and other valued posessions that have been covered by their owners, to shield them from any kind of external harm or damage. Maryam Arslan creates delectable self-portraits with thick, creamy oil strokes, encompassing blithe, whimsical fantasies where luscious food items flutter like birds and play secret games. Her narratives are experienced in short, sweet gushes as daydreams offer a brief, pleasant interval before collapsing back into reality.
Mujtaba Asif works across a broad swath of media, ranging from delicate paper and terracotta constructions to meticulously reworked found objects, and city-wide installations using graffiti, signage, and collaborative workshops to cause interventions in both physical and conceptual space. His projects, often left visible on the streets to the public at large, confront notions of indoctrinated discrimination based on religion, ethnicity and gender, in an attempt to lay bare and ultimately alter the deeply ingrained social and cultural prejudices he sees as widespread in Pakistani society. In a similar vein, the practice of Affan Baghpati revolves around collecting discarded domestic objects and re-contextualizing them for aesthetic reconsideration and functionality by drawing connections among them, altering them, and at times making new objects. These discarded objects, once functional in regional Pakistani households, are either losing or have already lost their value, presence, and function, which represents their old regional design and material culture.
Having observed and interacted with the art world, as an art student, a fresh graduate and then as an artist, Emaan Mahmud has developed satire as a way to document her sociological observations about the art "industry" in Pakistan. However, she started taking the power of satire seriously after Fox news mistook her anonymously written piece on padded bras getting banned in Pakistan as serious news. With an avid inclination towards material explorations and forms, Hira Khan's work meanders around the concept of self-empowerment and are frequently directed towards the idea of finding closure within the work's materials. Portraying people and toxicity through materials like plastics and punching bags, Khan reanimates these found objects with humanly attributes and investigates the spaces in which they were found and in which they occupy as objects of art.
Muzammil Khan's work speaks about the loss he had to face when his house in Karachi was demolished by the authorities due to the Lyari Expressway project in 2016. The loss, nonetheless, left room for a new beginning for him as he captured those moments in his paintings. His visuals consist of bricks, stones, and buildings, and incorporate personal spaces from photographs he took as well as from his memory. Suleman Aqeel Khilji's interest in drawing and photography leads him to use film stills, images from Art History, and news images as the basis for his paintings, and to locate the boundary of abstraction and figuration in enlarged images. Khilji's recent work consider images from Art History in his own context, not appropriating their exact mode of composition or execution, but re-situating and revisiting their contents in the light of his own contemporary visions.
The work of Seher Naveed shows her interest in urban geographies, as her curiosity lies in temporary barricades and obstructions that are a constant feature of the urban growth of the city Karachi in Pakistan. She views these barriers as additions, subtractions, and alterations to our everyday movement, and as superimposed architectural spaces that vacillate in appearance. Similarly, Seema Nusrat's current research is a response to the security situation in Karachi; the existence of these barricades has become an accepted type of intervention into the cityscape. One can imagine and map these barricades transforming from mere blocks into facades, columns, gardens and eventually translating into the innermost features of architecture. Razin Rubin's work portrays her past, and the adjustments she made to her lifestyle after the demise of her parents. Her studio practice focuses on miniature painting, drawing and photography. Her work interacts with the viewer and creates a dialogue around the things she witnesses in her daily routine.
Through the usage of film, found materials and manually altering archival documents, Veera Rustomji tries to stir the viewer's curiosity by questioning our notions of history and culture. His interests have grown from utilizing family archives, to photographing neighborhoods and looking at their cultural history in tandem with urban planning and design in Karachi. Rustomji's paintings lend a perspective into the possibilities of re-imagining alternate realities. Omer Wasim and Saira Sheikh are visual artists who practiced together, and cast a retrospective glance at the present to radically examine and mine contemporary art practices, and the recent, albeit superficial, interest of the global west in their region; and also to reconfigure, re-articulate, and disrupt existing and complacent modes of artistic engagement and production. Although Saira passed away in 2017, Wasim continues to execute projects that the two jointly conceived. Mohsin Shafi's collages are often intensely personal portraits of his life and his family made by using impersonal recycled images. In his own words he uses these images to investigate deeper realities such as the effect these images have on how we live today. Is too much information a good or a bad thing? And are we now losing contact what is real and the distinction between what is real and what is not? Through a play with image, text, material and space/environment, Shafi attempts to communicate multiple layers of meaning, that intentionally pose more questions than they provide answers, and, hopefully, in turn create a deeper dialogue.
Adeela Suleman studied Sculpture at the Indus Valley School of Art and completed a Master's degree in International Relations from the University of Karachi. She is currently the Coordinator of Vasl Artists' Collective in Karachi, in addition to being the Coordinator of the Fine Art Department at Indus Valley School of Art and Architecture. Suleman has participated extensively with group and solo exhibitions worldwide, including An Atlas of Mirrors - Singapore Biennale at the Singapore Art Museum, Phantoms of Asia at the Asian Art Museum, San Francisco, the 2013 Asian Art Biennial at the National Taiwan Museum of Fine Art, and Hanging Fire – Contemporary Art from Pakistan at The Asia Society, New York. Her work has been featured in Artforum and the New York Times, among other publications. Suleman lives and works in Karachi, Pakistan.