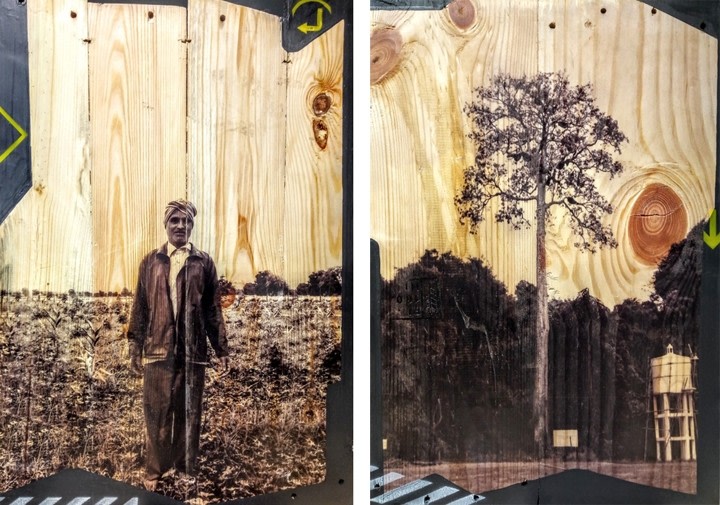 Ruby Chishti, Untitled, 2019, Gauze bandage, polyester fabric, lace, and brassiere, 49 x 38in.
Aicon Contemporary is delighted to present The End of Nature, a group exhibition centered around a growing environmental theme.
The exhibition's title comes from Bill McKibben's book The End of Nature. McKibben divides time into the inscrutable, geologic, and generational. Human civilization can be measured in a few hundred generations. It is in the generational time frame–especially the last couple of generations, when the earth has been most hurt by man–when nature has come to an end. Reviving nature, healing it, and making earth sustainable, cannot wait for inscrutable and geologic time. It has to happen in generational time.
Climate change is the defining inter-generational issue of today. In field after field, from academia to politics, design to construction, climate change awareness and activism has signaled a change of guard. An older generation of leadership for whom it has not been as urgent, has been forced to give ground to a younger generation. This trend has been slower to infiltrate art, but it is now going from a trickle to a flow, ahead of the coming flood. The avant-garde of art will find inspiration from the environment.
The End of Nature brings together a group of artists with environmental concerns at the core of their practice. For the most part they work in generational time.
Rajan Krishnan bemoans the extinction of species of flora and fauna, which he grew up with, in his stark acrylic on canvas paintings.
Debanjan Roy renders discarded industrial objects, molded originally in plastic, synthetic rubber, or some other hydro-carbon polymer, in the original carbon form known to man–wood. He painstakingly carves out tires, cans, and broken parts of old cell phones to bring the irony home.
H. G. Arunkumar divides his time between his art and environmental activism. Trained as a toy designer, he continues to be inspired by the
H. G.
power of abstract animal forms to tell the story of our environment.
G. R. Iranna has long been concerned with the environment and man's shortsighted relationship to it. His trees, unhinged from their stumps, form the basis of a whole body of work – of which three paintings can be seen in this show. The lonely tree becomes the heroic figure, the David against and urban Goliath, in Iranna's canvas. G. R. Iranna's art is on view at the Arsenale, in the 2019 edition of La Biennale di Venezia.
Gigi Scaria's view of the environment is colored by the city of Delhi where he lives and struggles on a daily basis for his share of everything with its 20 million other citizens. The urban jungle arises out of a single log, in his clever video.
Sujith S. N.'s landscapes of disquiet, obviously inhabited by man, but with no sign of him, is a possible vision of the future; when human beings have disappeared, albeit cleanly, from the face of the earth.
Avishek Sen's hybrid, predatory forms are a gestural display of the multiple identities that we embody but discover only through embracing one's self. The language of fruits and flowers, traditionally rendered in the form of still life, is completely transformed in this elaborate dreamscape.
Ruby Chishti uses found objects to create lyrical sculptures that touch upon universal issues such as migration and memory, and being human. We Leave, We Never Leave, We Return Endlessly represents structures and places abandoned by the humans who once inhabited them.
Marcy Chevali's work is often paradoxical, defining the boundaries between man and nature on both a physical and psychological level. Her sculptures, like our landscapes, are fragile and breakable.