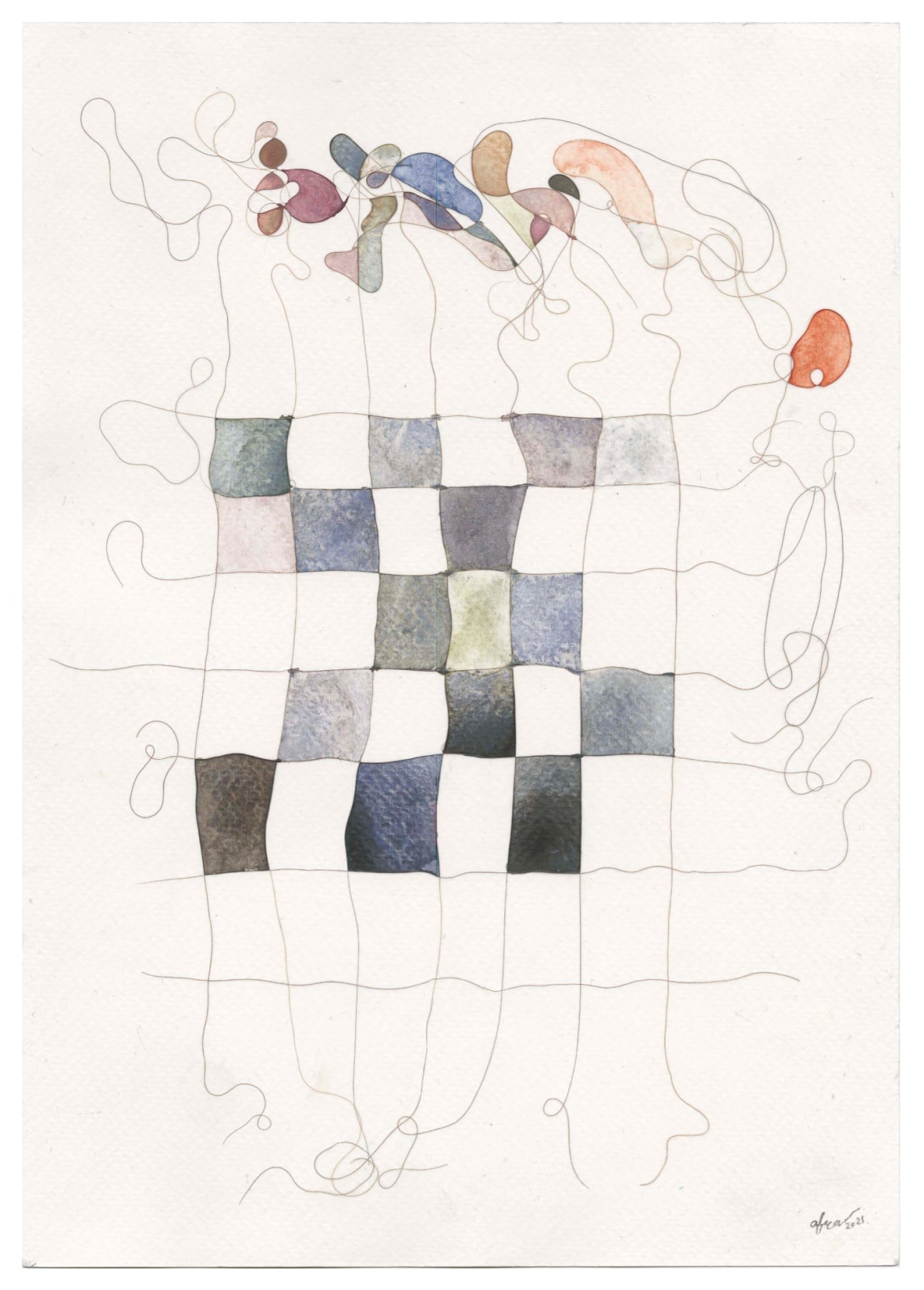 Afra Al Dhaheri's work is rooted in her experiences growing up in Abu Dhabi and the wider UAE – a place of recent and rapid deconstruction, reconfiguration and development. Working across various mediums including mixed media, sculpture, drawing, painting, installation, photography, and printmaking, she thoroughly explores the material while challenging questions of time, adaptation, rigor, and fragility. With each experiment, there is a new phase, each new phenomenon or actualization plucked from her unique vocabulary of references. Her practice, which is heavily process-driven, utilizes repetition as a method for prolonging time through which to truly experience or realize each stage of a work.
Christopher Joshua Benton is an American artist who lives and works in Dubai. His work explores labor exploitation and the cultural production of diasporic communities in the Gulf. We are pleased to present the American debut of his film "Say No to Bachelors Thronging Residential Neighborhoods," which documents the precarious but creative living conditions of Dubai's South Asian community. We are also showing his work "The People Who Build the City," a monumental textile work featuring found construction worker vests. Together these put forward an alternative view of the Emirate's neoliberal complexities
The simulated worlds of Swagata Bhattacharyya give visibility to speculative narratives of existing power structures and the way they shape our world. In his atmospheric drawings, photographs and computer-generated works, he questions how modes of power shape policies, examines how urban design represents ideologies of governance, and speculates on the construction of future environments through architecture, urban design, and manufactured landscapes.
Through a deep interest in the strategies of black aesthetic tradition, notions of incompleteness, and ideas of pursuance, Nathaniel Donnett's work, which stretches across various artistic disciplines, challenges traditional modes of linear timeline narratives and Western frameworks. Based in Houston, Texas, Donnett uses the streets of his hometown as both conceptual inspiration and provider of artistic materials. His art is concerned with existential migration, African American music forms, psychosocial impacts on the self and society, black imaginative space potentiality, and the standards of beauty and intelligence critique.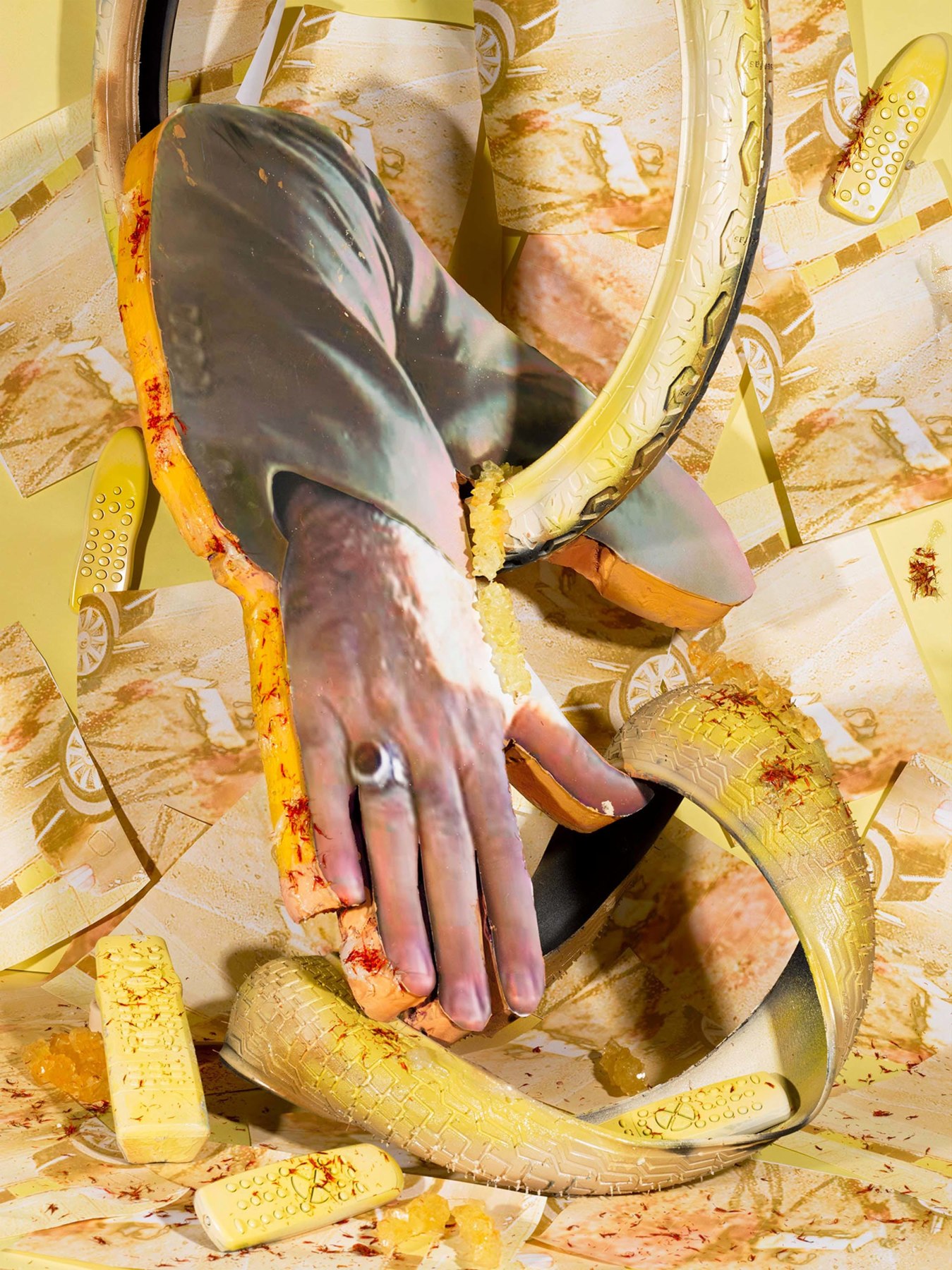 Tooraj Khamenehzadeh treats the production of art as a way of exploration, intuition, subjective experience, and immediate perception of reality. I'm Not a Song to Be Sung is a single-channel video representing a multi- channel video installation that concerns a generation of Iranians whose lives have been affected by long years of war, international sanctions, and civil and social pressures after the Iranian Revolution in 1979. Each character was asked to stay underwater and recite lines from a Persian poem by Iranian poet Shamlou in English. The duration of each reading ranges from several seconds to over a minute.
Working with various media and materials like sculpture, installation, painting. printmaking, and photography, Negin Mahzoun focuses on themes of observation, memory and gender in the context of her personal experiences. Her artistic practice draws from layers of history, literature, and the perspective of self portraiture to highlight the cultural identity of women's bodies as an object and subject. Working primarily with canvas, treads, paper, and water-based pigments, Mahzoun creates a specific space for women to share life experience secluded from the assumptions and oppressive laws governed by society.
Focused on intersections of art and activism and the issues of Iranian human rights violations, Sheida Soleimani constructs tableaux that incorporate arrays of symbolic objects and found imagery. Her politically charged, yet satirical artworks consider how social media has shaped the landscape in current socio-political affairs and uprisings. The flatness of the work challenges the medium of photography and allows the viewer to see the aggressive nature of the sourced images, blurring the boundaries of what is 'digitally created' and the construction of a physical image.
I Shouted My Laughter to the Stars is on view at Aicon Contemporary from June 9 - July 16, 2022.