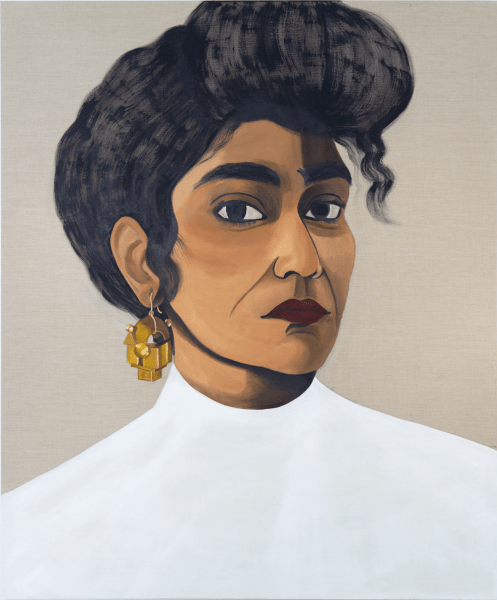 Aicon Contemporary is pleased to present Maya Varadaraj: No Feeling is Final. Curated by Ambika Trasi, this is the second solo exhibition for New York based interdisciplinary artist Maya Varadaraj.
No Feeling is Final features the artist's recent paintings and sculptures, which are a continuation of the project she began with her first solo exhibition at the gallery, Accident of Birth, in 2022. While Varadaraj once again turned to her family photo albums as source material for her portraits, this time, she took her process one step further and wrote personal letters to each of her subjects before putting paint to canvas. Informed by Rainer Maria Rilke's Letters to a Young Poet, the artist took up the practice of letter-writing to examine her familial relationships and investigate how they have directly and alchemically shaped her present-day life and self. Though Varadaraj's letters remain unsent, the introspective writing process was essential preparatory work, creating the emotional underpainting for each piece. She melds the genres of portraiture and self-portraiture, and even grounds the paintings within the epistolary genre through this method. Letter-writing became a tool for Varadaraj to reconstitute her memories with her direct ancestors, and to consider how her more recent experiences and internal life as a woman have given her new insights into their lives. The portraits ruminate on the cyclical nature of time, the inheritance of loss, and the shared experiences that often remain unacknowledged between generations—particularly generations of women.
Family may occupy one's life and psyche in complex and paradoxical ways throughout one's life and the artist's renderings reflect this. This is the first time Varadaraj has painted at such a large scale. Her portraits are immersive yet intimate and transform her family members into monumental figures who come across as simultaneously familiar yet allegorical, warm but imposing. Her subjects are surrounded by the empty space of the raw linen canvases they are painted onto, and this underscores each ones' timelessness and cosmic presence in her life. A self-portrait of the artist is flanked by her parents' and grandparents' portraits in the lower gallery. While each work is a distinct study that holds its own weight, when taken as a whole, the accumulation of the paintings and their configuration in the gallery construct a memoir of the artist as much as they construct an album or horizontal family tree. The result is a cosmological arrangement of the most essential parts of the artist's upbringing.
In addition to the portraits, a selection of ceramic sculptures occupies the lower gallery. These hybrid figures and busts may represent the artist herself or else nod to ancient fertility goddesses, with a few mutations. Their surreal features might make them futuristic beings, aliens, or time travelers—versions of Varadaraj from a distant future (or even past), visiting and repurposing her memories of her family and wearing those memories on their skins. Varadaraj's larger-than-life family portraits loom above them nearby, a reminder that ancestral worship is inherent in the traditions in which she was raised. The artist's background in fashion and collage are visible in the glazed designs on her sculptures and the clothing in her portraits. Rememory, after all, is akin to collaging— a "recollecting and remembering as in reassembling the members of the body, the family, the population of the past." 1
On the second-floor gallery is a diptych of the artist and her husband. Both figures make gestures with their right hands: the sun mudra with hers, and the rain mudra with his. Together, these gestures are believed to enhance fertility, perhaps nodding to future-thinking and the cycle of family-making. A large triptych spans the other wall—another self-portrait of the artist. Dressed in black, many Mayas stretch and dance across the canvases. Eyes closed, they appear to be taking in every memory and rememory, letting them flow through their bodies. The work seems to embody the Rilke quote for which the exhibition is named: Let everything happen to you: beauty and terror. /
 Just keep going. No feeling is final. / 
Don't let yourself lose me. For Varadaraj, no relationship remains static or holds just one meaning in her life. The past is ever-present and one's relationships can be reread again and again, altered and informed by new experiences.
Ambika Trasi
1. Raynaud, Claudine. "The Pursuit of Memory." Toni Morrison: Memory and Meaning, edited by Justine Tally and Adrienne Lanier Seward, University of Mississippi Press, Oxford, Miss., 2015: 66-79. DOI:10.14325/mississippi/9781628460193.003.0006
Exhibition Catalog
An accompanying exhibition catalog, Maya Varadaraj: No Feeling is Final, published by Aicon Contemporary, is available for purchase through the gallery. The publication features an epistolary essay by curator Ambika Trasi and includes illustrations of Varadaraj's work from the exhibition.
Programs
An artist talk is scheduled on the evening of the opening on August 3rd at 7:00pm. As a concluding event, a workshop with the artist will take place at the gallery on Saturday, August 26 from 11am-12:30pm.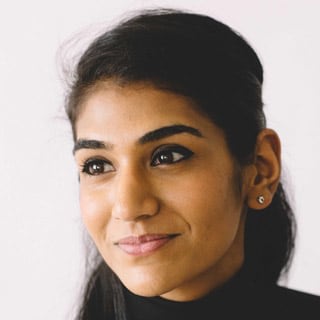 Maya Varadaraj (b. United States, 1989) is an interdisciplinary artist. She received her Bachelor's of Fine Arts from the Rhode Island School of Design before completing a Master's Degree at the School of the Art Institute of Chicago. Varadaraj's work has been exhibited internationally at Vitra Design Museum, Aicon Contemporary, India Art Fair, Sapar Contemporary, Museo Del Disseny Barcelona, Nature Morte, Salone De Mobile, Mana Contemporary, and Medium Tings, among others. She has been featured in publications such as Artnet, Juxtapoz, Platform Magazine, and We Make Money Not Art. She is included in Phaidon's Vitamin C+ : Collage in Contemporary Art.